WAKEY WAKEY, RISE 'n RUN…
Ons leven wordt vergemakkelijkt en veraangenaamd door apparaten. In uiteenlopende soorten en maten. We gebruiken ze thuis, op het werk, onderweg, op pleinen en straten. Zodanig eraan gewend, we hebben ze amper nog in de gaten… (tot zover m'n ochtend rijmpie)
Waren ze voorheen nog log en lomp door alle mechaniek die ervoor nodig was, tegenwoordig is onze apparatuur voorzien van ienieminimicrochips en smart technology waardoor sommige miniscuul klein zijn geworden. Beperkt in omvang, maar groots in mogelijkheden.
Toch heb ik van m'n apparaten niet zo'n extreem hoge verwachtigen. Kan alleen maar leiden tot teleurstelling, toch? Ze moeten gewoon doen waarvoor ze gemaakt zijn. Of in ieder geval waarvoor ik ze heb aangeschaft.
Zo hoeft m'n c.d.-speler (jawel ik heb er nog één) geen brood te kunnen roosteren, m'n ventilator hoeft geen licht te geven en zolang ik met m'n telefoon kan bellen, is 'ie naar mijn bescheiden maatstaven al smart genoeg.
Het apparaat waar m'n dag mee begint is de wekker. Qua functionele doeleinden een ontzettend ééndimensionaal ding. M'n wekker moet me nl. gewoon wakker maken. En dan het liefst op tijd. That's it!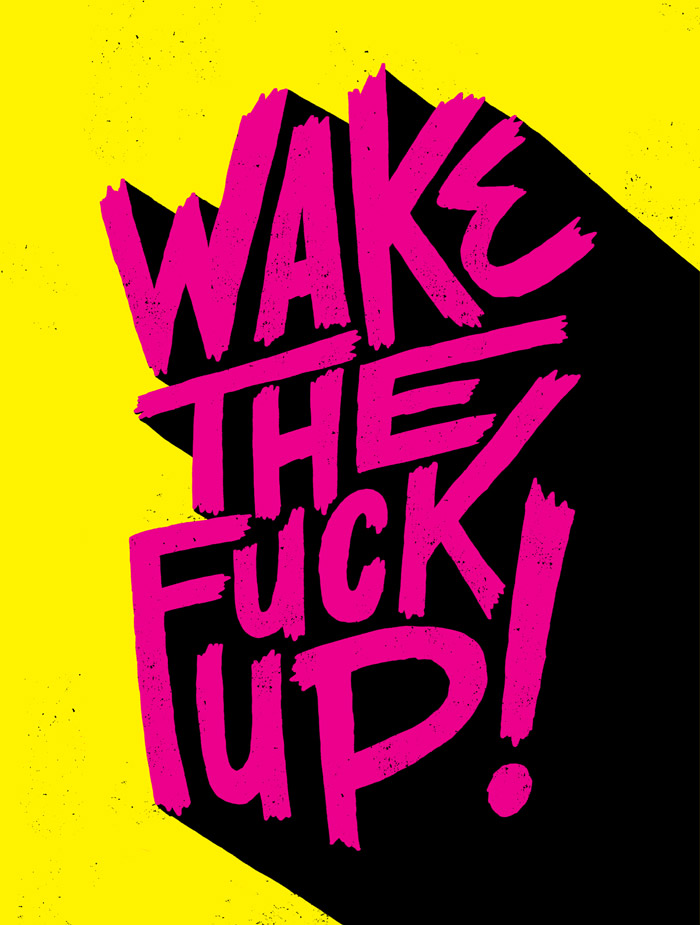 Nu heb ik niet echt een echte wekker, omdat we vrij minimalistisch leven. Eén van de redenen dat we ook al een paar jaar zonder t.v. zitten. We hadden er wel één. Een echte, compleet met bolle beeldbuis en een overgewicht waar niet tegenop te fitnessen is. Maar twee jaar geleden vond 'ie het wel welletjes. Acute beeldstilstand. Even later gevolgd door een geluidloos einde. (Gelukkig ging het allemaal vrij ge-ruis-loos… heel anders dan tijdens zijn laatste levensmaanden)
We blijken aardig zonder te kunnen. Alhoewel… het aantal smart phones bij ons in huis is sinds die tijd flink toegenomen. Inmiddels ben ik nog de enige die er geen heeft. Ik doe het met een gewone phone.
Mijn 'cell' (zo heet dat hier in Su… klik HIER en HIER om wat meer te lezen over Suriname) wordt vooral gebruikt om mee te bellen. En gebeld te worden. Dat gebeurt allebei gemiddeld 2x per week. Bellen is blijkbaar uit.
Ik sms ook nog wel eens, maar anderen vinden dat al helemáál passé. De enige sms-jes die ik binnenkrijg zijn boodschappenlijstjes van het thuisfront en ongevraagde berichtjes van adverteerders.
Echt geweldige foto's maken doet de mijne niet. Maar, on the upside, hij heeft wél een calculator. Altijd handig voor de dagelijkse wiskundige vraagstukken. En… dan is er ook nog 's de wekker! (zie je, ik heb er wel één)
Ik weet zeker dat 'ie erop zit. kHeb hem zelf namelijk ingesteld, met verschillende tijden voor verschillende dagen. Dus ik weet dat 'ie in m'n telefoon woont. Het heeft er alleen alle schijn van dat 'ie helemaal niet doet wat er van hem verwacht wordt.
Telkens wanneer ik me 's ochtends weer drie slagen in de rondte haast om de race tegen de klok te winnen, vraag ik mezelf af: "Hoe moeilijk kan het zijn voor een wekker (!) met een vaste opdracht (!) om mij doordeweeks om 05.00 uur wakker te maken? Met nog een herkansing om 05.15 uur…?"
Ik heb de instelligen een aantal keren ge-check-check-triple-checked, dus dat zit wel goed. Maar wekken ho maar.
Nu kan ik niet met een bonnetje terug naar de winkel, want deze wekker-met-ingebouwde-calculator-plus-bel-en-sms-functie heb ik een keer als afgedankt tweedehandsje geadopteerd. Zonder garantie natuurlijk. Het ging meer van: "Succes jongen, ik doe er al een tijdje niks meer mee."
Tja, ik kom uit een Indisch-Brabants gezin, waarvan de oudsten ieder zo hun oorlogen hebben meegemaakt. 'Hongerwinter' en 'Bersiap'. De ene werd weleens genoemd, de andere eigenlijk nooit. Maar vanwege m'n opvoeding zijn ze wel van blijvende invloed op hoe ik nooit eten weggooi en spullen, zelfs afdankertjes, hergebruik. Vaak tot het bittere eind van hun levensduur. Misschien is dat waarom ik m'n geloof in m'n wekker blijf houden en hem het voordeel van de twijfel blijf geven.

Lees hier wat ik bedoel met INDISCH

En deze gaat over m'n BRABANTSE background
kHeb er weleens over nagedacht om hem te controleren en 'm zodoende op heterdaad te betrappen op het niet afgaan. Alleen, klein probleempje: dan moet ik wel eerder wakker zijn dan hem. En wie heb ik daar dan weer voor nodig…? Precies… Hij heeft het goed door, volgens mij. Maar houdt zich rustig op de vlakte.
Gelukkig hebben al die smartphones ook een ingebouwde wekker, die wél netjes afgaat. Waarna ze mij komen zeggen: "Papa, wakker worden!"
Hoe al die afzonderlijke apparaten erin passen is mij nog steeds een raadsel. Waarschijnlijk doordat ze flink zijn verkleind. Vandaar natuurlijk ook het woord 'apps' in plaats van 'apparaten'. Yep, dat moet het zijn.
Misschien dat ik, Mr. Late Adopter, ook een keer over moet.
Ach, ik ben geduldig. Ik wacht wel totdat één van de kinderen toe is aan een nieuw(er) model. Probleem is alleen dat die opvoeding die ík heb gehad, doorwerkt in hoe ik míjn kinderen opvoed. Waardoor ook zij niet gauw iets weggooien of vervangen.
Tegen de tijd dat ze hun iPhone 5's niet meer gebruiken, zullen ze wel op zijn. Maar wie weet: grote kans dat hun wekkers het dan nog doen. Want ja, wat kan er kapot gaan aan een slimme wekker?
Hoe smart moet je zijn om af te gaan op de afgesproken tijd? Apple'tje eitje… klinkt als een ontbijtje.
Iets waar ik nu amper tijd voor heb. Maar die tijd komt nog wel. Alle vertrouwen in m'n kids… en hun wekkers.
Goeiemorgen!
© Edwiño do Sinyo ~ Edwin Linders
(auteur van RESPECT! Het verrassend debuut van een niet alledaagse schrijver)